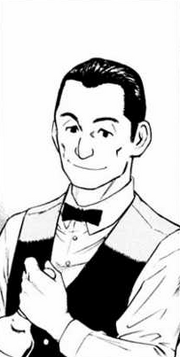 The Master is a bartender who died sometime after World War II. He was Motomitsu Kurushima's favorite bartender. Here, The Master served Motomitsu and his wife a drink that consisted of ⅓ Rye Whisky, ⅓ Dry Vermouth, and ⅓ Campari. After shaking up the cocktail, Motomitsu and his wife try it, finding it absolutley amazing. Ever since then, "The Master" was Motomitsu's most favorite bartender; denying every drink that doesn't taste like one The Master made.
Description
Edit
Ad blocker interference detected!
Wikia is a free-to-use site that makes money from advertising. We have a modified experience for viewers using ad blockers

Wikia is not accessible if you've made further modifications. Remove the custom ad blocker rule(s) and the page will load as expected.